Scientists demonstrate how marine reserves boost snapper numbers
New research shows that adult snapper in the Leigh Marine Reserve boost snapper abundance in surrounding waters.
Amazingly, results show that even though the reserve makes up only 1.4% of the 400km2 study area, it is contributing 10.6% of the juvenile snapper!
Plenty of research shows that fish abundance is higher inside reserves than outside, but it has been hard to collect evidence that shows how reserves contribute to surrounding fish populations. This is because it's so hard to work out where a particular fish was spawned. Snapper larvae float in the currents for up to a month and can end up settling a long way from their parents. In fact, larvae spawned in the Leigh Reserve can float as far south as Whangaparaoa, to Little Barrier in the east and north of the Hen and Chicks before they settle to the bottom as juvenile snapper.
Genetic relationships
In this ingenious study, scientists from the University of Auckland looked at the genetic relationships between juvenile and adult snapper, in the reserve and the surrounding study area.
Their results showed that 10.6% of snapper swimming about outside the reserve came from parents inside the reserve.

This means the presence of the reserve actually enhances the local fishstock - a win for all of us. Fishers, snorkelers/divers, and conservationists are all benefitting from this no-take reserve.
The researchers also point out that their research can offer a template for the study and design of reserves elsewhere:
They encourage these results to be used to design systems of MPAs that optimize their contribution to fisheries, thereby achieving a win-win scenario for conservation, fisheries management and those that like to look.
So the tiny Leigh Marine Reserve is providing the surrounding waters with 10% more snapper! Imagine what larger reserves could achieve. Thanks Auckland University for all your fabulous research over the years.
The findings are published in Proceedings of the Royal Society B: Biological Sciences.
Le Port A, Montgomery JC, Smith ANH, Croucher AE, McLeod IM, Lavery SD. 2017 Temperate marine protected area provides recruitment subsidies to local fisheries. Proc. R. Soc. B 284: 20171300.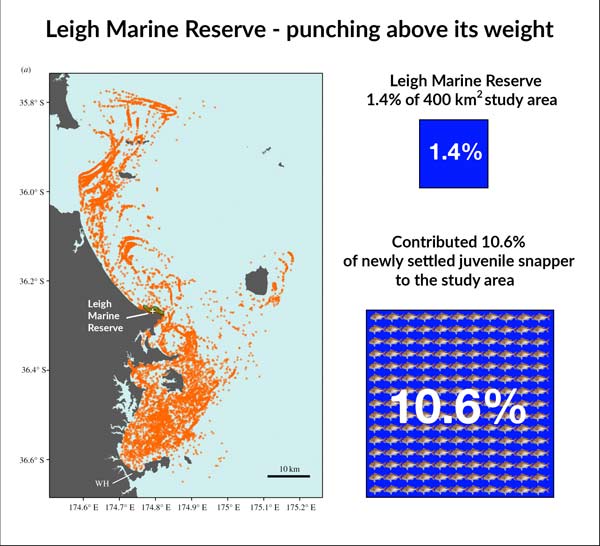 Snapper larval dispersal from the Leight Marine Reserve, simulated using a biophysical model. (a) Distribution of particles (square kilometres) successfully settled at 28 days post-spawning. The model incorporates hydrodynamics, larval movement behaviour and weather patterns recorded during November to December 2011. Modelled 'larvae' were released daily during this month at a single point at the centre of the reserve (in green with cross indicating centre of reserve).