Quick facts
This is approximately what 500,000 t of sediment looks like by volume. Enough to create a pile on a rugby field 51 m high!
Break down of contributors to Bay of Islands sedimentation
How much
In the last 150 years, sedimentation has been 22 times greater than the last 10,000 years!
Approx 500,000 t of silt surges down our rivers to be deposited in Bay of Islands waters every year.
That's 2.4 mm on the seabed each year.
It covers shellfish beds, displaces kelp forests, turns rock seabeds to mud, and extinguishes important deepwater habitats.
Where it comes from
Beef and dairy farming contribute 51%.
Clear felled pine forests contribute 19%.
Native forest and manuka scrubland contribute a miniscule 5%, even though they make up 20% of the land cover.
Read more: https://www.nrc.govt.nz/resources/?url=%2FResource-Library-Summary%2FResearch-and-reports%2FCoastal%2FBay-of-Islands-Sedimentation-Report%2F
Photo: Dean Wright / Oneshot
What can we can do to reduce it?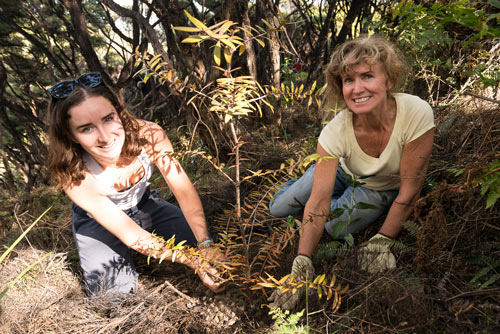 Photo: Dean Wright / OneshotRiparian planting, wetland restoration, sediment traps – and generally being savvy about slowing rates of runoff during heavy rains – can reduce the dirtying of our waters and minimise sedimentation.
Fish Forever's sister working group Living Waters has three riparian planting projects currently underway, all volunteers welcome!

Visit Living Waters website here