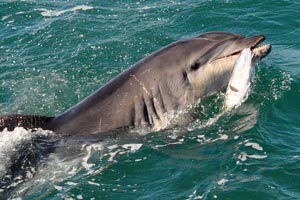 Photo: Cat PetersA Massey University report has made the following findings about the Bay of Islands dolphin population:
Since 1999 the number of local bottlenose dolphin visiting the Bay of Islands has declined by 66%
It is estimated 75% of dolphin calves have died before reaching independence.
Dolphins spend 86% of daylight hours in the presence of at least one boat.
Both commercial and private vessels are altering the behaviours of the dolphins and in particular affecting those behaviours which are biologically critical for their survival.
---
The best protection for dolphins in the Bay is to give them more space.

If you do come across them, please make sure you're familiar with the simple rules below.

---
How you can help
Graphic: Department of Conservation
If there are three or more boats within 300m of dolphins, wait 300m away until some boats leave to avoid crowding the dolphins

Keep a watch for dolphins – especially around Tapeka. Slow down early and gradually.

If you are passing through an area with dolphins give the dolphins a wide berth.

If you would like to observe bottlenose dolphins switch off your motor and give the animals plenty of space – this lets the dolphins carry on with important activities like nursing and catching fish. If they are not interested, leave them alone.

Dolphin mums and calves are especially vunerable, please give them extra space. If you spot a dolphin less than half the size of an adult, keep your vessel 100 m away from the mother and calf

Give bottlenose dolphins a break from all boats between 11:30 am and 1:30 pm – do not approach them during this time.
---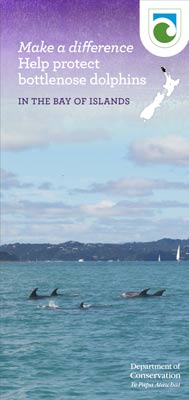 Download DoC's brochure
Download DoC's: Make a difference help protect bottlenose dolphins


Read Massey's article: "Report finds Bay of Islands bottlenose dolphins at risk"
Read Stuff article: "Urgent intervention needed to keep dolphins in the Bay"
Read NZ Herald article: "Dolphins loved too much"